For over 20yrs Aweber is in the e-mail marketing business. The biggest claim of the Aweber is that they have invented email autoresponder by this we can say that email automation is one of its prime features. Aweber is best for small businesses, entrepreneurs, podcasters, nonprofit bloggers, and other online content creators such as Social media influencers across the globe.
Let's dig deep into a fully-fledged Aweber review:-
Pricing Structure of Aweber:-
If you have 500 subscribers then it $19/month.

501 – 2,500 Subscribers it is $29/month. 

2,501 – 5,000 Subscribers it is $49/month.

5,001 – 10,000 Subscribers it is $69/month.

10,001 – 25,000 Subscribers it is $149/month.
And if your business has more than 25k+ Subscribers then you have to call Aweber for the quotation.
Key features of Aweber:-
Wide range of templates.

Has the ability to import email database.

Autoresponder.

Responsive email design.

Phone, email and live chat support.

Integrations with third-party apps.

Split testing.

Basic marketing automation function.

List segmentation is also available.
Usability:-
As the menu structure is concern it is mostly up to the mark although some sections are hidden, and they have multiple menus which can be a headache for the new user. The fact that you need to sign up for your free trial using a credit card is a little frustrating. The terminology used by the Aweber can be a little confusing for the new user.
Templates:-
Aweber is the largest Templates provider with over 700+ templates which is more than any other of its competitors. To be honest, all the designs are not that good, some of the design are really outdated. However, with plenty of templates, you will definitely find something of your choice and if not you can create your own.
Web Font In Templates:-
I like this thing that, Aweber is the only Email marketing solution that allows users to use web font, unlike its competitors. As we know Web fonts are more attractive than the 'safe font'(Times New Roman, Arial, etc). This helps you to achieve more brand consistency between your brand and e-newsletter.
List of some web font Aweber allows:
Noticia Text.

Lora.

Lato.

Merriweather.

Merriweather sans.

Roboto.

Source Sans Pro.

Arvo.

Open Sans.

Playfair Display
Although Aweber has done an excellent job of Providing 700+ templates and allowing the use of web font is like icing on the cake.
Responsive Design:-
All the templates by Aweber are 'Responsive' it means all the templates automatically adjust themselves according to the size of the device which an excellent thing. Again a good thing done by Aweber that they show preview in Mobile view as well as in desktop view.
RSS To Email Templates:-
Aweber can create a newsletter and taking RSS feed from your Website, Which can get sent as per the schedule. Although you can use this with any content Aweber call this as 'Blog Broadcasts'. You can make your newsletter from your website which can be a big time saver. This feature is mostly used by the bloggers to directly update the latest blog directly through email.
The thing which is a little frustrating is that you are not allowed to use standard Aweber templates design. Aweber as provided a different set of templates for this purpose which are plenty in numbers but most of them look terrible. You can't use standard drag and drop to edit these templates with is quite frustrating. After much struggle, you will find something which works decently. I think there is room for improvement in this feature. 
Aweber Autoresponder
Autoresponder is nothing but a series of emails that are automatically triggered by the user action or by time schedule. As I mentioned earlier claims that they have invented Email Autoresponder back in 1998 so their email automation must be over the top but unfortunately it's just OK like any other email marketing solution.
Although it is easy to use for example sending an email of onboarding as soon as they sign up, a promo code 2 days later and a follow us on social media email within a week. This is the typical way of using Autoresponder and Aweber deserves a Thumbs up in it.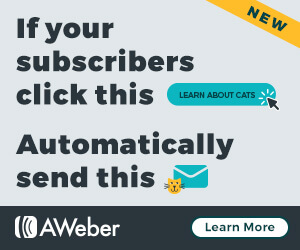 Use of AMP For Email In Aweber:-
This is the only feature where Aweber has an edge over its Competitor. The use of AMP for emails. Sending an email is a very old school thing but what AMP has done it made this old school thing interesting, Newsletter email is a simple combination of text and image but now with the help of AMP feature recipient are allowed to do the simple actions like, book an appointment, call to action, without even visiting the site. Isn't it great? It also allows the sender to insert flamboyant content like weather updates, live scores and much more. Personally I loved this feature it adds a new dimension to the whole scene of email sending.

Opt-In Process:-
So, What is Opt-In process?
The answer is simple, it's flexibility for a sender to decide whether they want to send a single opt-in email or double opt-in email. Let's break it down Single opt-in is an email in which the user is subscriber as soon as he fills the form while in the Double opt-in is an email where the user have to click the link to be a subscriber.
This two different process has there on merits. This is a thumbs up for Aweber.
Aweber Analytics:-
Analytics is one of the most important things in any kind of tool. Aweber offers key stats like click-through rate, bounce rate, and open rate. Along with this, they also offer the number of different analytics which includes.
​
List growth over time.

Can View past Activities of user engagement.

geographical stats.

Sign Up method overview. 
Third-Party Apps Integration:-
A wide range of Third-party Apps integration is available in Aweber. As there are many options available it gives an opportunity to use various types of cloud-based service.
​
Web builders like WordPress, Weebly, Wix, CRM like Zendesk widgets, Chat Matic are easily available. In this, some tools have dedicated snippet and some to access by adding snippet code.
Aweber Support:-
This feature sets the standard high for Aweber. Unlike other email marketing solutions, It has Phone Support, Live Chat Support, Email Support. There is no girdle that you have to go through Contact Support, Phone everything is easily available on the Companies contact page.
Pros and Cons:-
Pros:-
User Friendly, Every easy to use.

Has a big bank of Templates.

Aweber Support is up to the mark.

It Supports AMP for Email which is Something a revolution in an email marketing solution.

It is affordable than its many competitors.

Lets you decide whether you want a Single-opt in process or Double-opt in process.

Integrates with large amount of third-party apps.

Its Autoresponder is very easy to use.

All the templates are responsive.

Analytics is very easy to understand.

You can use Web font, which is not available in other email marketing solutions.
Cons:-
Many Templates look out-dated.

There are much cheaper options available that provide more features than Aweber.

RSS email Templates are not so good.

Can't include or exclude at one go while sending an email.

Conclusion:-
Overall Aweber is one of the solid email marketing tools available. It is easy to use and affordable. It has some unique features such as Web Font, AMP for emails which makes it stand apart from the other email service provider.
Aweber is also known for its support system, a new user who lacks technical skills can be benefited from this excellent support system. Some features regarding automation have room for improvement.
I hope you all find this fully-fledged review helpful.
​